Overview
Trip Outline
Trip Includes
Trip Excludes
Gallery
Booking
FAQ
This tour is recommended for experienced climbers who have already acclimatized in Ecuador.
Chimborazo is Ecuador's highest peak. For many years European climbers thought it was the highest mountain in world. In fact, it is the highest mountain in the world when measured from the center of the Earth. Further, Earth is slightly wider at the Equator, making it the mountain closest to the sun. The first ascent was made by the famous expeditionary Edward Whymper back in 1892, and the mountain has four main summits.
No details found.
Itineraries
Day 1
Chimborazo High Camp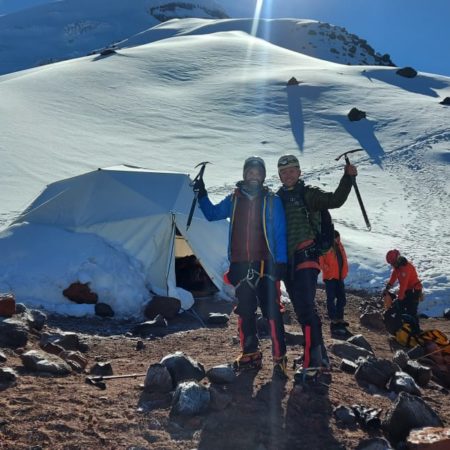 Elevation: 5300 m. /17,388 ft.
We will drive south from Quito (9,186ft/2.800m) towards the city of Ambato (8,858ft/2,700m) through the Avenue of the Volcanoes for about 4 hours until we get to the Chimborazo`s reserve. There are two options here: Stay at Hermanos Carrel refuge (15,744ft/4,800), where we will have dinner and get some rest until 11 pm. There will be an early light breakfast served just before we get our gear ready and start hiking up. The other option is for an extra cost, we can hike up to (5,300m./17388 ft.) and set up a high camp there. (We are currently using this high camp because the shelter is closed)
Included meals: Lunch / dinner
Accommodation: Overnight in 4-Season Tent
Day 2
Chimborazo Summit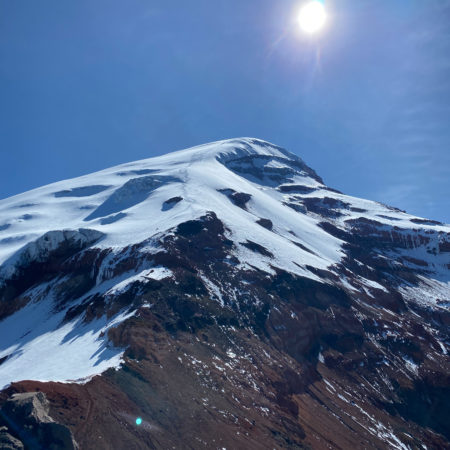 Elevation: 6.268m./20,564 ft
At midnight, we will start our climb to the top of Ecuador's highest mountain, Chimborazo, which will take us about 6 to 8 hours. We will get to the top (20564,3ft/6.268m) early in the morning. It is a perfect place for resting and taking pictures of the beautiful Andean surroundings. After some rest, we will start our descent back to the Refuge. It will take us 3 to 4 hours. Then we'll start our descending to the High Camp, which will take us from 3 to 4 hours. Once in the High Camp, we will pack our belongings and then, we will still need to go down 2 hours to the parking lot, where our transportation will be ready to drive us down to Quito.
Included meals: Breakfast
Accommodation:
Qualified and experienced Ecuadorian local Mountain Guide (ASEGUIM/UIAGM) ratio 2 climbers -1 guide)
Registration in the System SIB (System Information of Biodiversity )
Technical mountain equipment (Mountaineering Boots, crampons, ice axe, harness, helmet)
Land transportation and transfers to Chimborazo
Accomodation at chimborazo High Camp
All meals during the hikes and climbs 
Material personal de montaña (paños de abrigo, sacos de dormir, gafas de sol, linterna frontal, etc.)

Boletos de vuelos internacionales

Hotel in Quito

Consejos

Seguros de cualquier tipo Seguro de accidentes de viaje y de salud

Seguro de equipaje y cancelación de viaje

Otros gastos no especificados
We kindly refer to our Terms and Conditions page which can be found in the footer of our website.
In Ecuador you can hike all year, but these are the seasons:
- High Season: June to August / December to January
- Low season: February to May / September to November
No prior climbing experience is required. Climbers should be in good physical condition and it is highly recommended that they have some backpacking experience.